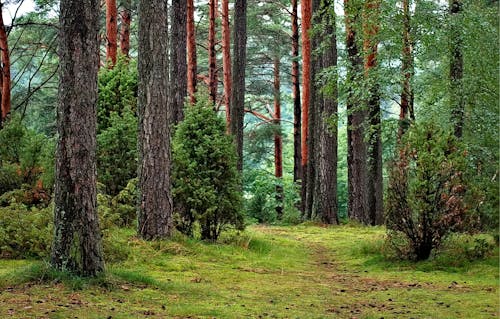 Researchers have proven that nature has positive effects on our emotions, thoughts, mental health, and physical health. I literally experienced this to a great measure, when my husband took me on a birthday excursion to the mountains in Southern Illinois.
I cried with joy when we entered the lush green environment full of deep valleys and high peaks. Then, I cried with grief when we left them an hour and a half later, because our visit was much too short. My soul craved more mountain time.
When we walk in nature, or watch nature videos, our stress levels decrease, because our parasympathetic nervous system calms us down during our interaction with trees, mountains, flowers, bodies of water, and watching wildlife.
Lush landscapes raise our confidence that our life will flourish, as we spend time in their order and fruitfulness, giving us hope. While nature restores our mental and emotional perception and abilities, we feel more energized, our mood improves, and our brain is more alert.
Even our physical recovery time is enhanced and shortened by contact with nature. Many hospitals fill their lobby with plants, and offer courtyards for staff, visitor and patient enjoyment. We often bring gifts of flowers and plants to those in the hospital.
Nature tends to instigate slow, deep, rhythmic breathing that sends peaceful vibes to our mind, body and emotions. Water in nature, along with trees, plants and flowers will improve our attention span when we are tired, allowing our productivity to increase.
Fountains heighten our feelings of joy as we watch their pulsing manipulation of water. A starlit night, comets, shooting stars and a bright moon will also restore our mental and emotional stability. A cool sunny day brightens our mood, depletes our concerns and fosters hope.
Through studying a variety of people, researchers proved what I experienced in the mountains. Nature definitely reduces negative thoughts, as well as lessens anxiety. With each step in the verdant greenery, our cares diminish and God's peace causes our breathing to slow and our joy to increase.
Prayer:
Father God, thank You for creating such beautiful nature for us to enjoy. All creation gives testimony of Your existence, and no one has an excuse for not believing in You. Remind us to experience the joy You give through Your handiwork in the sky, on the land and in the water (Romans 1:20).
Remind us to take the time to walk in nature, and to give live plants and flowers as gifts to our family and friends. This allows Your creation to restore us in spirit, soul and body. We know that the rocks will sing Your praises if we fail to do so (Luke 19:40); so help us to understand the importance of nature in Your order of our earthly existence.
Thought for the Day:
Our grief is diminished by our contact with nature, and some aspects of nature will even produce a smile or a deep-throated chuckle; that is why people send plants and flowers to those grieving a loss, and why working in the garden or playing with our pets will diminish our stress level.