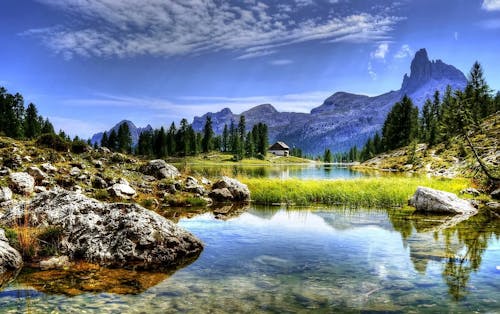 When I was little, my mommy used to read me this story. The whole plan of salvation in one beautiful story. I still remember the words of the first few pages. Was this the foundation for my ultimate acceptance of Christ's salvation at age 18?
( https://www.youtube.com/watch?v=7Uq6BMPCJdo )
I read this same book to my three children, as well as my grandchildren. I am praying that these beautiful words inspire them as they did me, and changed my life then and forever.
When an entity as big as God moves into our life, He gives us new life. Things change in us and around us, and we often grapple with this change, because many of us do not like change. We learn to adapt, but we still experience fears and insecurity.
Christ is the Word of God who existed with God before the creation of the world, and He is God (Hebrews 4:12; John 1:1-14). God birthed Jesus as His only begotten Son when His Spirit conceived Him as a mortal man in the virgin Mary.
When Christ moves in, we serve Him by the strength which God supplies (Philippians 2:12-13). This brings God glory and honor through Jesus Christ in us (1 Peter 4:10-11). We used to be slaves to sin, but now we owe our allegiance to Christ as slaves to righteousness (Romans 6:1-18).
Our human wisdom, goals and ambitions are submitted to Christ in us. Even our physical life is His. As we decrease through the sanctification process, He increases within us (John 3:30).
We will also be raised with Christ into immortality, because death no longer has any mastery over us in Christ. Jesus died once for anyone who wants to believe in Him (John 3:16-18). Through His life within us, we will live forever with God.
We are no longer our own. Our life is hidden with Christ in God through the Holy Spirit (1 Corinthians 6:17; 2 Peter 1:4; Hebrews 3:14, 6:4; Romans 6:11). As we realize that we are now dead to sin (Colossians 3:3), Christ can live in and through us in holiness.
As we live a surrendered life to Him, He is more and more able to express Himself through our body, spirit and soul – our mind, will and emotions. He has perfect plans for us as we commit to walking by His Spirit in His will (Galatians 5:15-25).
Prayer:
Father God, humanity considers Your laws restrictive and oppressive. We want the freedom to sin against others, but we blame You when others sin against us. Your judgment is never mean or vindictive. It is Your loving attempt to draw us away from sin and back into Your protection and abundance. We surrender our life to You, because Father knows best.
Before you send any judgment on the earth, You give Your people every opportunity to repent and to return to You (Jeremiah 15:19). We rejoice that these same people that give You the most grief through their hatred, give You unrivaled joy the instant they humble themselves, repent, trust in You and obey the leading of Your Spirit (Luke 15:7).
Thought for the Day:
Born Again Believers are part of Christ's Body (Romans 8:9), and His Holy Spirit transforms our life by giving us His fruit (Galatians 5:22-23); we simply respond by relinquishing the depravity in our life in exchange for the holiness of God (Romans 12:1-2).